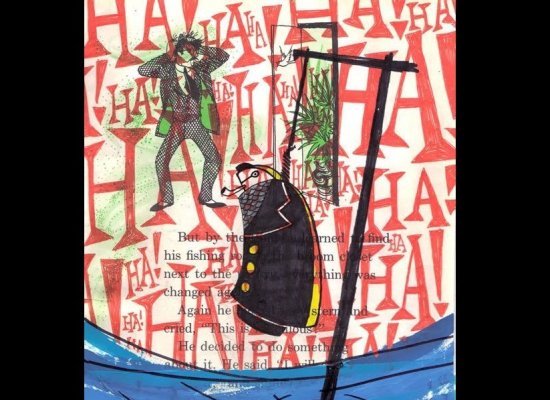 Picture copyright Matt Kish.
http://www.huffingtonpost.com/2011/07/12/moby-dick-gets-a-makeover_n_894970.html#s306908&title=Page_163
Wow--this guy really likes Moby Dick.
The article discusses the new book being put out by a guy named Matt Kish. Moby Dick is apparently his favorite. As The Giver or The Catcher in the Rye are mine, Moby Dick is his.
From the article:
"['Moby Dick'] has been such a companion for me my whole life," Kish told HuffPost. "I've read it a bunch of times, I saw the TV movie, various comic book adaptations -- it's been such a part of me."
Amazing. His favorite is this book. It is amazing to me.
Also from the Huffington Post article: "He started a blog where he posted his daily illustrations -- mainly just so family and friends could check out his work. But within days, other 'Moby Dick' fan sites caught on and began reposting his drawings. Soon, to his surprise, he was fielding requests from publishers."
Although, the art is exceptional. I don't think it really mattered what book it was and the public and the publisher would have liked it. However, the book lends itself to his interesting psychological take. Maybe he could have done Kafka's Metamorphosis, drawing like that.
It is his passion though and I applaud him for it. And for Moby Dick to influence that kind of creativity has to say something about the book. It may not be my cup of tea, but it is clearly his cup of tea.
However, the crux of the matter with me is why Moby Dick is considered a classic.Shouldn't the definition of "classic" be something for just about everybody? Maybe that is a road I need to explore...